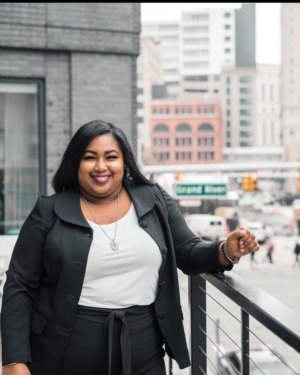 Fun Facts: She drives in silence, She is a Forex Day Trader, and Reads three books a month.
Originally from West Virginia raised in Detroit, MI. Currently licensed in Michigan with a desire to service the Georgia, Texas and California area. As a seasoned agent she has been able to assist a host of local and out of state clientele with a focus in restoring "The Heart of the D".  She aims to educate millennials and new investors of the importance of ownership.
While studying Business and Marketing, at Eastern Michigan University, she was given the opportunity to work for the largest online mortgage banking company in the US. Within that role her love for real estate grew deeply. She then started her own Real Estate investing company specializing in flipping homes, building rental portfolios, and commercial leasing.
While living in Arizona she was able to learn from Daymond John-, shark tank entrepreneur, the importance of having an amazing business structure that has helped grow massive success within the Detroit area. Those pillars being; Family, Profitability, Development, Dedication, and Impact. 
While being mentored by a host of people and studying the greats like; Bob Proctor, David Imoinite, John Maxwell and Bryce Thompson. She has grown fond of the art of personal development and relationship building. She has been quoted saying, "Real Estate will make you RICH but Relationships will make you Wealthy." 
Her peers would say her speciality is The Art of Negotiation, "There is no deal that she can't deal with."
A message from Daisha: "Thank you for choosing me as your Real Estate Professional, with your help, I will be sure to serve you with the utmost integrity and I won't stop until the job is done."