Tiffany A. Edwards
REALTOR®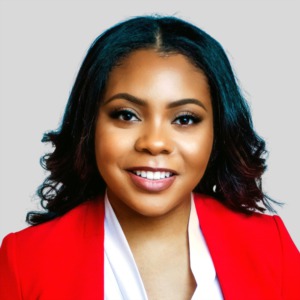 Metro-Detroit is a great place to live and work, which is why Tiffany Edwards chose to come back home. Tiffany began her Real Estate Sales career in Atlanta, GA. over four years ago. She saw the opportunity to make an impact on individuals and families in her hometown, so in 2022, Tiffany moved back to Detroit. Real estate is a passion for Tiffany, and with her background in education, it is easy to see why more than 10 families in 2022 called Tiffany for help buying and selling.
Tiffany isn't just passionate about helping families find their next home. Tiffany has served as vice president and treasurer of The Michigan State Black Alumni Atlanta Chapter, chaired a local Atlanta school board, and currently volunteers as an assistant volleyball coach with Detroit Public Schools. Tiffany loves being a part of her community and giving back.
A passion for the outdoors and discovery, when Tiffany isn't in the office or volunteering, you'll often find her boating, relaxing at the beach, hiking a trail, or traveling to a new place.